Music Grade 2:
Beginning in Music Two

Beginning in Music Two has 36 one-sided, tear-out worksheets that review and drill syllable shapes and kinds of tones. This course is more advanced than the Grade 1 course in that pupils learn to draw shaped notes and characters showing note values, and they are drilled in writing the names and values of the notes. Rests are included in Grade 2. Pupils learn to draw and label rests. Worksheets 10, 19, 30, and 34 are tests.
The teacher's guide, included with the pupil workbook, gives much helpful advice in developing the student's singing ability. A number of musical ideas are suggested as well as other methods of developing the student's diatonic feeling.
Click on a book to see sample pages.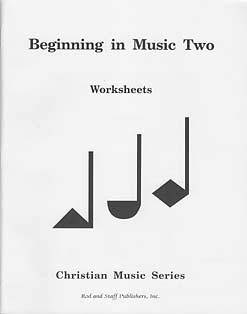 Click on a book to see sample pages.
This site is operated by Milestone Books. We are an independent vendor of materials by Rod and Staff Publishers of Crockett, KY.
The samples on this site are taken from copyrighted materials, and are shown for information purposes only.