Penmanship Grade 2:
Penmanship for Christian Writing


The penmanship course in Grade 2 is composed of 60 lessons in one workbook with tearout pages, and a 157-page teacher's guide that shows a reduced pupil's page and gives detailed teaching instructions for each lesson. It reviews the formation of each of the capital and small manuscript letters and the numerals; then it progresses to teaching slant print. The slant print strokes are taught first, followed by the slant print small and capital letters, and numerals. Pupils print many sentences using slant print letters. Slant print is taught as an introduction to cursive writing.
In the second half of Grade 2, pupils learn the cursive strokes. In the introductory lessons, some exercise is given to writing sentences and cursive letters. Proceeding to the teaching of cursive small and capital letters, letters are again grouped according to stroke formation. The strokes for each letter are illustrated, and much practice is given.
Each lesson has practice lines on the back of the tear-out sheet. An optional penmanship tablet of 100 sheets ruled on both sides is also available for any writing practice or assignments. The lines are spaced 1/2" apart with a middle dashed line to help children proportion their letters properly.
Click on a book to see sample pages.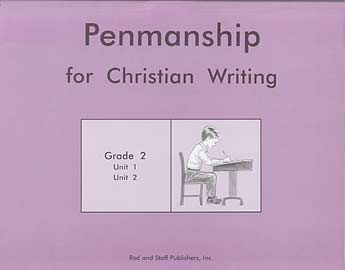 Click on a book to see sample pages.
This site is operated by Milestone Books. We are an independent vendor of materials by Rod and Staff Publishers of Crockett, KY.
The samples on this site are taken from copyrighted materials, and are shown for information purposes only.