Social Studies Grade 2:
Our Father's World


Here is a simple course that introduces and explains basic geographical terms—continent, ocean, lake, city, state, province, and country. Basic surface features are discussed—mountains, hills, deserts, valleys, and plains. The purpose and structure of globes and maps are taught. Twelve of the 30 lessons are stories about children around the world. Each story is cast in the setting of a child's surroundings and activities on a March day.
At the back of the 133-page pupil's book is a section called "New Word Exercises," where the meaning and use of the new words used in a given lesson are taught by fill-in-the-blank exercises.
The 39-page Teacher's Manual consists of the Lesson Aim or Facts Taught, a list of the New Words taught in that lesson, and Procedure, which is a suggested method of introducing that lesson. Answer keys are included.
Click on a book to see sample pages.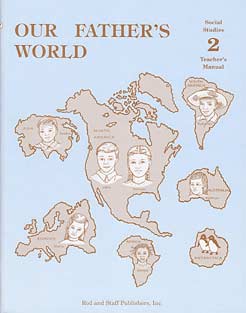 Click on a book to see sample pages.
This site is operated by Milestone Books. We are an independent vendor of materials by Rod and Staff Publishers of Crockett, KY.
The samples on this site are taken from copyrighted materials, and are shown for information purposes only.