English Grade 3:
Beginning Wisely




This 321-page hardcover book teaches that understanding sentence type and structure is basic to writing sentences, and then paragraphs and stories. Sentence parts are studied, and some simple diagramming. Nouns, pronouns, verbs, adjectives, and adverbs and their correct usage are exercised. Dictionary work, capitalization and punctuation, proofreading, and communication skills round out this English course.
A separate booklet of 70 worksheets is available for additional practise. These may be used as workbooks for all the students or as a resource for the teacher to select and copy the ones needed.
A 21-page test booklet provides a test for each of the 5 units.
The 406-page teacher's manual gives guidance for presenting the lessons. It shows a reduced copy of the pupil's pages with the answer key beside the excercises. Answer keys are also included for the worksheets and text booklets.
Click on a book to see sample pages.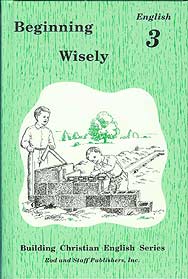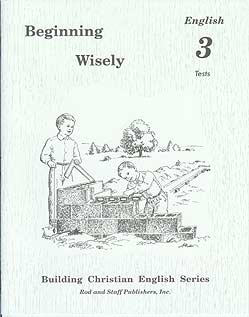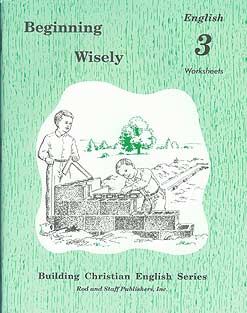 Click on a book to see sample pages.
This site is operated by Milestone Books. We are an independent vendor of materials by Rod and Staff Publishers of Crockett, KY.
The samples on this site are taken from copyrighted materials, and are shown for information purposes only.