Health Grade 4:
Health for the Glory of God



Pupil's Textbook
Clear instructions are given from Biblical guidelines for maintaining good health of body and mind for the glory of God. The pupil's book includes 13 lessons plus reviews.
Teacher's Edition
The Teacher's Edition is a pupil book and tests with red answers filled in, and annotations for the teacher that give help to know how to teach each lesson. A test answer key is also included.
Tests
The test booklet, with perforated pages, has three tests plus a final test on the material covered in the course.
Click on a book to see sample pages.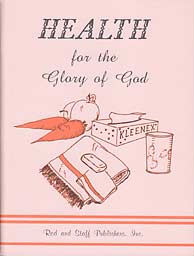 Click on a book to see sample pages.
This site is operated by Milestone Books. We are an independent vendor of materials by Rod and Staff Publishers of Crockett, KY.
The samples on this site are taken from copyrighted materials, and are shown for information purposes only.