Click on a course to see an overview and sample lessons.

The 60 lessons in A Time to Gather contain forty narratives, six selections of Bible prose, four selections of Bible poetry, six English poems, and four composition themes (of which two are Scripture passages).
These selections have been chosen for their integrity and worthwhile contribution to building character. The stories include lessons from history and the present day, from foreign countries and North America, from grownups and schoolchildren, from nature and human experiences.

God Visits His Chosen Family is divided into six chapters. Each chapter has five lessons and a review. A chapter is intended to provide work for six weeks. Chapter tests and a final test are available in a separate booklet.
This series (The Story of God's Chosen Family, Grades 5-8) follows a chronological sequence through the Bible. This workbook is a study of the Gospels and Acts.

There are 170 lessons in Mastering Mathematics.



Building Securely has 125 lessons divided into 11 chapters. The first two chapters deal with sentence parts and sentence construction. Object complements and subjective complements are introduced.

The previous books in this spelling series concentrate on basic phonetic patterns. Beginning in Grade 7, the main emphasis shifts to another important factor that affects spelling, namely, the study of word elements--roots, prefixes, and suffixes.

God's Orderly World is a continuation of the general science series, with units covering the topics of life on earth, the earth's resources, sound, fire, gravity, diseases, and agriculture.


Understanding the Old World covers the geography and history of Europe, Asia, Africa, and the Middle East from a Biblical perspective. The story of God's Old Testament people, the Jews, and His New Testament people, the faithful Christians, is woven into the history chapters.
Developing in Music may be used for Grade 6 or 7, or a combination of grades. In this textbook with a durable, soft cover, each of the 6 chapters is divided into shorter lesson parts by subtitles. Each chapter ends with a set of study questions and a one-page account of a well-known hymn author.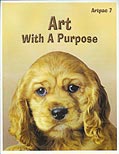 Artpac 7 includes advanced shading using soft lead color pencils in place of crayons. Advanced grid drawing, including accurate enlargement and reduction. Attractive calligraphy. Advanced painting with full-color painting lessons using full-color instructions. Lovely shaded drawings of birds.
Click on a course to see an overview and sample lessons.