Social Studies Grade 7:
Understanding the Old World


Grade 7 covers the geography and history of Europe, Asia, Africa, and the Middle East from a Biblical perspective. The story of God's Old Testament people, the Jews, and His New Testament people, the faithful Christians, is woven into the history chapters.
Study exercises and reviews are included, and map skills and timelines are emphasized. The book has blank maps that may be traced or copied for map exercises. Many color and black-and-white photos, maps, and illustrations help students understand what is taught in the text. Also featured are some plants important to the people of the Old World.
Table of Contents
(Highlighted lessons have samples online.)
Section 1: The Geography of the Old World—
Europe, Asia, Africa, and the Middle East
Chapter 1: Map Skills
Chapter 2: Europe
Chapter 3: Asia
Chapter 4: Africa
Chapter 5: The Middle East
Section 2: The History of the Old World—
From the Creation to the Reformation
Chapter 6: The First World
Chapter 7: Early Mesopotamia
Chapter 8: The Treasurers of Egypt
Chapter 9: The Chosen Land
Chapter 10: The Hebrews Become a Nation
Chapter 11: The Assyrian Empire and the Hebrews.
Chapter 12: Judah Under the Neo-Babylonians and Persians
Chapter 13: Ancient History of India and China
Chapter 14: The Ancient Greeks
Chapter 15: The Hellenized World
Chapter 16: Mighty Rome
Chapter 17: Palestine Under Rome
Chapter 19: Chirstianity Decays
Chapter 20: The Muslims
Chapter 21: The Early Middle Ages
Chapter 22: Life in Europe During the Middle Ages
Chapter 23: The Late Middle Ages
Chapter 24: The Faithful Church: A Light in the Dark
Chapter 25: Africa, India, and China Through the Middle Ages
Chapter 26: The Renaissance
Chapter 27: The Reformation
Chapter 28: The Anabaptists
Chapter 29: The Rise of Modern Nations
Chapter 30: Society Moves Into Modern Times
Map Section
Important Events in History
Glossary
Map Index
General Index
Click on a book to see sample pages.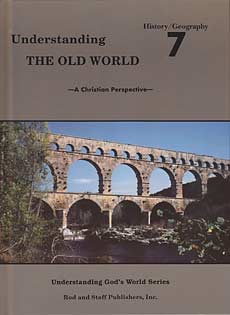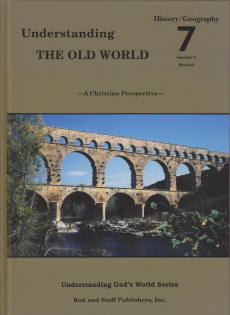 Click on a book to see sample pages.
This site is operated by Milestone Books. We are an independent vendor of materials by Rod and Staff Publishers of Crockett, KY.
The samples on this site are taken from copyrighted materials, and are shown for information purposes only.