Click on a course to see an overview and sample lessons.


The 60 lessons in A Time of Peace contain thirty narratives, four selections of Bible prose, four selections of Bible poetry, twelve English poems, and ten essays. Study exercises follow each selection.


God's Redeemed Family—the Church is divided into six chapters, with five lessons and a review in each chapter. A chapter is intended to provide work for six weeks. Chapter tests and a final test are available in a separate booklet.
This series (The Story of God's Chosen Family, Grades 5-8) follows a general chronological sequence through the Bible. This workbook is a study of the Epistles and Revelation. Most lessons have the following sections.




There are 170 lessons in Applying Mathematics.




Preparing for Usefulness has 124 lessons divided into 11 chapters. The first two chapters deal with sentence elements and sentence structure. Objective complements, elliptical sentences, and compound-complex sentences are introduced.
The main purpose of any spelling course is to teach pupils how to spell words correctly. Earlier books in this series seek to accomplish that purpose by focusing on phonetic patterns. In grade 7 and grade 8, the focus shifts to word elements--the roots, prefixes, and suffixes that make up words. Studying these elements will help students understand why words are spelled as they are.



God's Orderly World for grade 8 is a continuation of the general science series, covering the topics of astronomy, heat, weather, and several units about the human body.



Understanding North American History covers the geography and history of North America.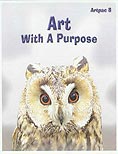 Advertisers and publishers prefer pen and ink drawings because they reproduce with ease and clarity. For this reason we spend all of Artpac 8 in teaching the various techniques of illustration with pen and ink.
Click on a course to see an overview and sample lessons.